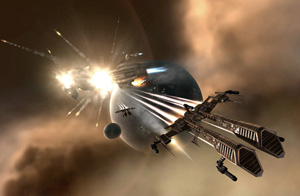 Eve Online, is a game which was first mentioned to Freedom Fighters in 2003. First played by long time members James, FF-Third Fleet and FF-Fubar they were soon followed by several other Freedom Fighters. In 2003 Freedom Fighters finally formed their own Eve Corporation and, paying homage to the Community logo, began playing under the banner of Pegasus Industries.
Led by its CEO, Ultravires, Pegasus Industries started life as a mining and building corporation. This soon changed as the corporation members looked more and more towards Player vs. Player combat for their fun. Pegasus Industries thrived in the cut-throat world of Eve and began to grow in numbers.
With a new direction, that of PvP combat, Pegasus Industries decided to declare their first war against a pirate Corporation, Zl4ve of Darkness. The war went well and the Corporation began to make new friends. Pegasus Industries became exceptionally good friends with another like minded Corp, Omni-Core, little did we realise that this would eventually lead to the two Corporations merging into one single entity.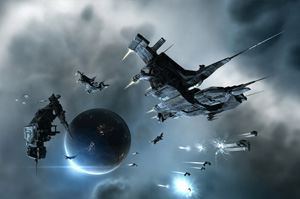 Omni-Core Freedom Fighters was born in early 2005. Led by CO-CEO's, Liquid Metal and Ultravires, the Corporation again began to swell in numbers until it reached a strength of approximatly 60 players. After several months of flying together it was decided that the Corp should join its good friends Slackers Industries and create a new Alliance, Exuro Mortis. The newly founded Alliance moved its area of operations to Delve. Permitted to live in the region whilst supplying military support to the infamous Band of Brothers the Alliance flourished.
Whilst living in Delve the Alliance came to be known as BoB's Guard Dogs by its enemies. Exuro Mortis hit several highs during its existance including earning a place in the quarter-finals of the first Caldari Championships. Unfortunatly cracks began to appear in Exuro Mortis's resolve. Forced to leave Delve after BoB closed its borders the Alliance splintered and became a former shadow of itself. OCFF struggled to keep the Alliance alive after Slackers Industries left, however it was an impossible task. During this period OCFF's first CEO, Liquid Metal disappeared and was lost to the Corp for several months. Deciding that a new leader was needed the Corporations board voted Beli Mawr in as CEO, giving Ty Rone the position of XO. With a mandate to keep the Corp alive the new leaders looked for a new direction.
After a period of restructuring in Empire space OCFF's leadership began looking for a new Alliance to join. The answer came in the form of The Centre For Disease Creation. The Corp found a new role as part of CDC's military arm. Moving to CDC controlled Vale of the Silent OCFF found itself finally defending its own space against any incursion.
For several months OCFF proudly flew under the CDC banner but again this was not to last. With the resignation of the Corps two commanders, Beli Mawr and Ty Rone and the introduction of a new generation of commanders, ExuroMortis, CEO, and Calendril, XO, the Corp has again moved into Empire space with a view to return to its mercenary roots. Recently the corp has seen a resurgence in interest with several players returning from retirement. Plans are progressing to make OCFF a force within eve once more. The history of OCFF continues....
Command Staff
Contact Information
Please contact Beli Mawr, Saureth or Boarder in-game for details of our services.